Unilever's Project Sunlight: A Real Life Story With A Happy Ending
|
Today, Unilever launched Project Sunlight, a new sustainability campaign to coincide with Universal Children's day.
The aim: To change the way you view the world for your children and future generations.
Watch…
Positioning Unilever As The Agent Of Change
The power of this campaign lies in the brilliant manipluation of our emotions.  By daring to start with the question: Why bring a child into this world?  they were able to position their Project Sunlight initiative as the positive force for good and change in our world.
By leading with thir social story, Unilever have ensured that the campaign is meaningful and relevant to audiences and therefore bound to resonate and be shared.  It did, by the millions!
The voice over announcer goes on to tell the bright side of the story…
Maybe you should know something about the world in which your child will live.  Something real, something that's already hapening.  Every day more and more food is grown with a revelutionary method; care.
He goes on to reasure expecting parents:
breath calmly, bring your child into this world, there has never been a better time.
We're the Characters in the Story of Life
At the beginning of the video, expectant parents from all over the world shared their worries and doubts aboout bringing an innocent child into our world.  Towards the end, they came to the realisation that we and only we can determine the outcome of the story of life and that it doesn't have to have a bad ending.
As one of the interviewees in the video says…
We're the characters in the story, how the story pans out is based on how we behave in the story
Another interviewee says,
The world needs good guys, I'd like to think that our baby will be one of the good guys.
Views on the Campaign From Unilever's PR Agency
According to Richard Elderman, CEO of Unilever's PR agency:
This is a major step forward in the Sustainable Living Plan announced by CEO Paul Polman three years ago, in which he committed the company to double its revenues without raising its consumption of natural resources.
The key to taking strides in Sustainable living is to change consumer behavior.
The essential communications insight is that behavior change comes when you make participation easy to understand, desirable and rewarding.
The campaign's execution accomplishes this with maticulous precision: Clear calls to action via clickable links embeded at the end of the video: Get involved or share…
Responsibility Towards The Environment
Unilvere's comitment to sustainability is unrelenting.
In the video below they explain how they plan to grow their business responsibly.
We're teaming up with suppliers, customers and consumers to see how we can all reduce our impact on the world.
Children Inspire Action
Unilever research shows that there are key child-related moments, particularly around the birth of a first child, when people are more open to changes in their own behaviours and lifestyles.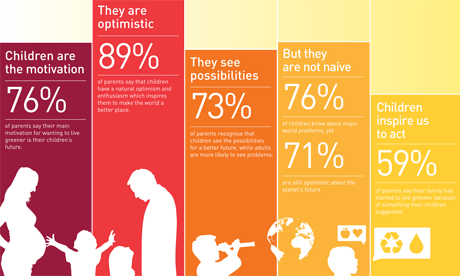 Nine out of 10 parents say children's natural optimism and enthusiasm inspires them to make the world a better place, and seven out of 10 parents say their main motivation for wanting to live in a greener way is their children's future.
See the full research summary here.
The Sustainable Future Manifesto
Unilever pledged to improve the health of a billion people, use only sustainable raw materials, and cut the environmental impact of 1,600 products in half. This means Q-tips made from the wood of sustainable forests and shampoo brands which urge consumers to take shorter showers. Unilever has also promised to double its revenue by 2020. That may seem like an impossible feat, but it's nothing compared to raising a child.
The Unilever manifesto provides context and rationale for the initiative.
It states:
"If you think that a brighter future is possible, you've come to the right place.…We believe in a world where no child goes to bed hungry. Where every home has enough water to drink, wash and clean. Where preventable diseases are prevented. And where every child lives past their fifth birthday. We believe we can all live well. Without stealing from future generations…"
The Story doesn't end here…
Unilever Foundation is also partnering with groups like Save the Children and UNICEF and as part of the campaign will create 2 million "acts of sunshine"–things like supplying school meals, drinking water, and improved hygiene to kids around the world.
Over to you…
Inspired by Unilever's Project Sunlight Campaign?  Share your views…